Order your horsehair jewellery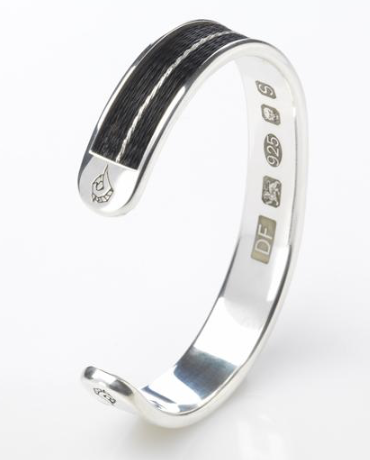 Woven inlaid horse hair torque bangle - Brocade
SKU 00082
Woven inlaid horse hair torque bangle - Brocade
Product Details
Hand woven solid torque bangle inlaid with woven horse hair, with a nod to British tailoring fabrics

"Brocade" is a richly decorative, luxury fabric often woven with metallic thread. We incorporate into the woven horse hair band real silver bullion thread spun for us by Benton & Johnson, one of the last traditional bullion thread suppliers in the UK. Choose from:
925 (Silver, single), a single central thread
925 (Silver, double), double central threads
Woven horse hair band set into an elegant bangle, 1 cm wide, in burnished solid sterling silver and bearing the distinctive TBH horse head logo on the tips. Hallmarked for quality by the London Assay Office and beautifully gift boxed including a presentation card with the name of the horse(s). Optional engraving.
Hand made to order Couture using your own horse's hair or Ready to Wear using hair that we provide.
We also cast in yellow, white and rose gold and in platinum. Metal prices are subject to fluctuation; please email for a quotation.

---
Details & Options
Horse hair: Full length tail hair is required for all woven pieces, regardless of finished length, because the hair must be long enough to fix on the loom. Slightly less than a little finger's width of full length hair, 40 - 45 cm, is enough to make this ring. We always return any unused hair but it must fit in our envelopes so please don't send more than needed as the excess will be discarded.
Measurements: We will cast your bangle individually based on your wrist measurement and the horse hair is permanently glue into it and so it cannot be altered or a refund given if you have ordered the wrong size. Therefore please take care to measure your wrist correctly and specify this in your order.
Engraving: around the inside of the bangle and or on the outside of the bangle on the central strengthening bar.

Timescale: All our jewellery is truly hand made and so timescales depend on order levels. Typically it takes around 4 - 6 weeks. Please email us beforehand if you have a particular deadline and we will try to accommodate you.

Please look after your jewellery!
As much as you love it, horse hair jewellery is not unbreakable and if you "love it too much", your jewellery may not last! The better you care for your horse hair jewellery, the better it will last you.
Always follow the care instructions. In particular avoid prolonged soaking and anything that might snag, cut or abrade the horse hair. Please read our warranty. Failure to follow our care instructions excludes our warranty.
The woven horse hair is glued into the bangle and is therefore protected to some extent, however, be aware that it is still a natural material. Please avoid wearing the bangle next to anything that might cut or abrade the woven band and avoid prolonged soaking. We recommend removing your bangle when bathing, applying hand lotions, washing up or swimming.
Do take extra care of Brocade designs.The silver bullion thread is not as strong as horse hair. The bullion thread may naturally patinate over time and cannot be polished.
Important - fitting your bangle: to fit the torque bangle initially you can adjust it if necessary by slightly opening or closing the gap. To do so pull the ends apart or push them together straight, avoiding twisting the bangle. Going forward you should then be able to slip the bangle on and off without having to open or close the gap each time.
If, contrary to this advice, you repeatedly open and close the gap in the bangle or if you twist it, the metal will flex and fatigue and there is a risk that the bangle could break. Unfortunately, if this happens the bangle cannot be repaired and it would have to be remade with fresh horse hair at full cost.
Save this product for later